What Advantages of A Superb Waterproof Recliner Cover Should Have?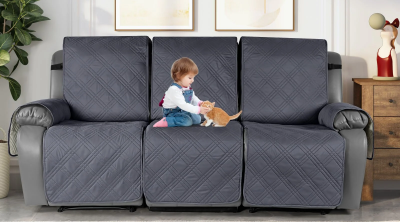 In hot summer,what else can be cooler and cozier than lying on our sofas or recliners?Among so many materials like velvet or normal spandex,the waterproof one can win the first place.Imagine putting some waterproof recliner blanket on your recliner and then you can enjoy the rest summer time.
Here are some key points that can assist you when you choose some waterproof recliner covers.
I.*🌷【100% WATERPROOF FABRIC】
You must make sure the fabric is 100% waterproof.Some are made of spandex and only add a little waterproof component.Only 100% waterproof can protect your sofa from any drinks, spills, daily wear and tear. Making sure your furniture are clean at all times.
II. *🌷【HIGH QUALITY MATERIAL】
To be the best waterproof recliner covers,they must quilt from at least 5 layers of durable fabric, and the inner-layer is filled with cotton texture fabric to make it more comfortable, soft, durable and strong.In this way,it would be a great choice for homes with kids and pets.


III.*🌷【REDUCE SLIP-OFF CONCEPT】
Considerate recliner covers usually have straps to reduce movement around!The concrete standards including
1. Solid round colloid design on the back of our recliner cover; 2. Additional flexible elastic straps; 3. Two elastic bands at seat's back side and the matching buckle, to reduce the sliding of the recliner chair slipcover, even on the leather furnitures.
IV.*🌷【EASY TO INSTALL & EASY CARE】
Care instruction should remind you:Hand or machine washable, wash at a temperature around 30 degrees Celsius, mild laundry detergent advice. Do not bleach. Do not iron.
In conclusion,superb waterproof recliner covers should have at least four advantages.They are 100% WATERPROOF FABRIC、HIGH QUALITY MATERIAL、REDUCE SLIP-OFF CONCEPT and EASY TO INSTALL & EASY CARE.