Bring A Piece of Green to Your Furniture!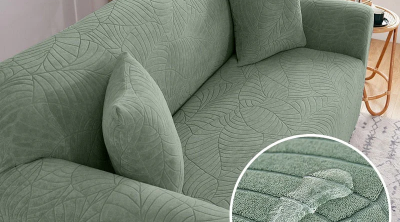 On a hot summer's day, what could be more soothing and cooling than staying at home and seeing green.This summer, our store has prepared a range of green furniture covers that will protect your furniture while adding a visually cooler piece to your home.
THICK JACQUARD LEAF PATTERN DINING CHAIR COVER
 *🌷【Unique Waterproof Chair Cover】Sureix chair covers with waterproof coating and a specially designed PE film inner layer. Double waterproof protection, prevent wet, stains and pet damage. Great for family with kids and pets.
THICK JACQUARD LEAF PATTERN SOFA RECLINER CHAIR COVER
*🌷【WATER RESISTENT FABRIC】Quilted from upgraded water-resistant fabric,our durable furniture slipcover has experienced the special waterproof treatment which can protects your furniture from stains,pet hair,stains,damages and resistent to pet's claw,while adding aesthetic look and a sense of harmony to your living environment.


JACQUARD LARGE LEAF SPLIT RECLINER CHAIR COVER 4/6/8 PIECES
*🌷【4-PIECE DESIGN】The stretchy reclining chair covers including 2 pieces armrest cover, 1 piece footrest cover and 1 piece backrest slipcover. The 4 pieces design is more fit than 1 piece cover, and no need constantly tuck the extra fabric with foam sticks, thus saving installation time. Besides, our recliner slipcovers are designed with a practical pocket on the side, you can easily reach your belongings while sitting in the recliner chair
THICK JACQUARD LEAF PATTERN TUB CHAIR SLIPCOVER
*🌷【Non Slip】This tub chair slipcover is anti-slip with elastic loops to cover the bottom edges, which can wrap your club chairs firmly and avoid shifting even after sitting or taking a nap on it.
THICK JACQUARD LEAF PATTERN ARMLESS SOFA BED COVER
*🌷【FULL PROTECT】These sofa bed slipcovers are super soft and comfortable, natural environmental and ECO friendly. Protect your sofa from spills, stains and tearing. Great choice for homes with children and pets
If you want to start your green furnitute plan,you could choose some of these items from this link>>https://www.sureix.com/collections/sofa-cover/products/thick-jacquard-leaf-pattern-sofa-recliner-chair-cover
Buy bundle and save more!